"Let us be so sensitive that we stop when we feel our hearts are being defiled by the Spirit of rebellion." K.P. Yohannan
It was just two short years ago. Confused, angry, and hurt my heart pounded as I asked…but I had to ask, "Why?"
I really respected and cared about my pastor, yet there were decisions that were confusing and felt hurtful. Somehow, in wisdom that could only have been from Above, I decided ask before the chance was gone.
Hands shaking, face red…I explained my hurt, my anger, and my question.
The answer was humble, wise, and considerate.
I was blown away…
I was humbled…
I was grateful…
…grateful that somehow, against everything in my nature, I had asked. Grateful that bitterness would no longer be an option in my heart. Grateful that God had placed me under such wise and gentle authority.
This year…I read a book.
And I was humbled yet again…
I saw deep, ugly places in my heart.
I saw a root of rebellion I had never noticed.
I saw horrible disrespect that I had formerly discredited as harmless.
I saw my words, my heart, and occasionally my actions that I knew brought the heart of God pain.
I learned…
…that all authority, godly or not, is under God.
…that if I disrespect anyone who has authority over me, in my heart, my words, or my actions, I am disrespecting God.
…that God deals RADICALLY with people who disrespect authority.
…that fear of God should become radically real when I see sin in my life, and should lead me to my knees in repentance and thankfulness for His grace.
…that those who are in authority are held to a high standard in their leadership and care for those under them because their leadership, represents God's leadership.
"Those in authority should never fight for themselves. We need to simply leave it to the Lord to defend us." – K.P. Yohannan
I learned…that I have the propensity to so much rebellion in my heart and it is only by the great grace and protection of God that it has not shown itself more.
I need to keep my feet firmly planted in the gospel of grace towards God-given authority.
I need to keep a solid trust in God when I don't understand the decisions leaders over me are making.
I need to keep a heart that is soft to authority in my life.
By God's grace alone…
Be blessed
<3
Linking Up: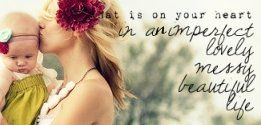 </
pre>